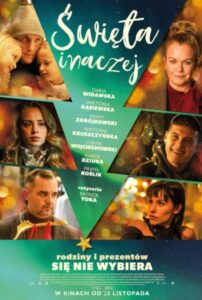 W komedii "Święta inaczej" Ewa jest perfekcyjną panią domu. Do Świąt szykuje się już od wakacji i nie przyjmuje do wiadomości, że coś może pójść nie tak. Nic więc dziwnego, że gdy w przeddzień wigilii odkrywa, że jej małżeństwo jest bajką, w którą wierzy już tylko ona, poukładany lśniący świat wali jej się na głowę. Trafiona w serce z dużego kalibru, Ewa po raz pierwszy w życiu postanawia zrobić coś naprawdę spontanicznego: rzuca wszystko i wsiada do pierwszego lepszego pociągu w nieznane. Tropem zaginionej matki ruszają jej dzieci: nastoletni Dorian, który w swoim liceum czuje się jakby urwał się z choinki i jego starsza siostra Emma, której związek właśnie eksplodował jak skład sylwestrowych fajerwerków. Przedzierają się przez zaatakowany śnieżycą kraj, by odkryć zaskakującą prawdę: że Święta warto spędzić zupełnie inaczej, a może nawet całe życie…
Druga propozycja to "Do ostatniej kości" – opowieść o pierwszej miłości między Maren (Taylor Russell), młodą kobietą, uczącą się, jak przetrwać na marginesie społeczeństwa, a Lee (Timothée Chalamet), porywczym wyrzutkiem i włóczęgą. W czasie wspólnej odysei na dystansie tysiąca mil poznają boczne drogi, ukryte zaułki i rozmaite pułapki Ameryki epoki Ronalda Reagana. Pomimo wysiłków, nie mogą jednak uciec od tragicznej przeszłości. Ostatecznie będą musieli zdecydować, czy ich uczucie jest w stanie pokonać ich odmienność.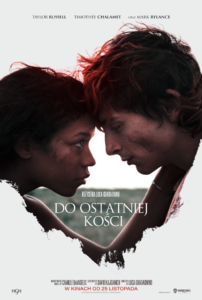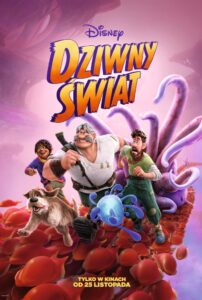 OD najbliższego piątku, 25.11.2022 r. do kin trafi animacja dla najmłodszych kinomanów. "Dziwny Świat" – nowa produkcja Walt Disney Animation Studios to pełna przygód podróż w głąb zupełnie niesamowitego świata zamieszkanego przez najdziwniejsze stwory. Czy skłócony klan Klanów, rodzina odkrywców i poszukiwaczy przygód, zdoła się dogadać i wypełnić najważniejszą misję swojego życia?